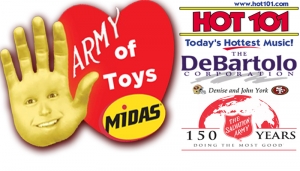 THERE'S NOTHING LIKE UNWRAPPING A PRESENT DURING THE HOLIDAYS!  UNFORTUNATELY, THERE ARE CHILDREN IN OUR VALLEY WHO DON'T GET TO EXPERIENCE THAT JOY.  THAT'S WHY HOT 101 HAS TEAMED UP WITH MIDAS, THE DEBARTOLO COMPANY AND THE SALVATION ARMY TO BRING YOU "THE ARMY OF TOYS OF MAHONING COUNTY".  WHEN YOU STOP BY THE HOT 101 STUDIOS AND DROP OFF A "NEW" UNWRAPPED TOY, THE AMAZING PEOPLE AT MIDAS WILL AWARD YOU WITH A FREE OIL CHANGE.  ALL TOYS ARE DISTRIBUTED TO NEEDY FAMILIES IN THE MAHONING COUNTY.  IT'S THE HOT 101 ARMY OF TOYS PRESENTED BY MIDAS, THE DEBARTOLO COMPANY, BOAK AND SONS, CHILLIES,  AND THE SALVATION ARMY. 
THE HOT 101 STUDIO'S ARE LOCATED AT 4040 SIMON RD, YOUNGSTOWN, OHIO 44512.  
WHEN YOU ARRIVE AT THE HOT 101 STUDIO'S PLEASE LET OUR RECEPTIONIST KNOW YOU ARE DROPPING OFF A TOY FOR THE ARMY OF TOYS.  
YOU WILL RECEIVE ONE GIFT CERTIFICATE FOR A FREE OIL CHANGE.
RULES. 
ONE GIFT CERTIFICATE PER HOUSEHOLD WHEN DROPPING OFF A TOY.